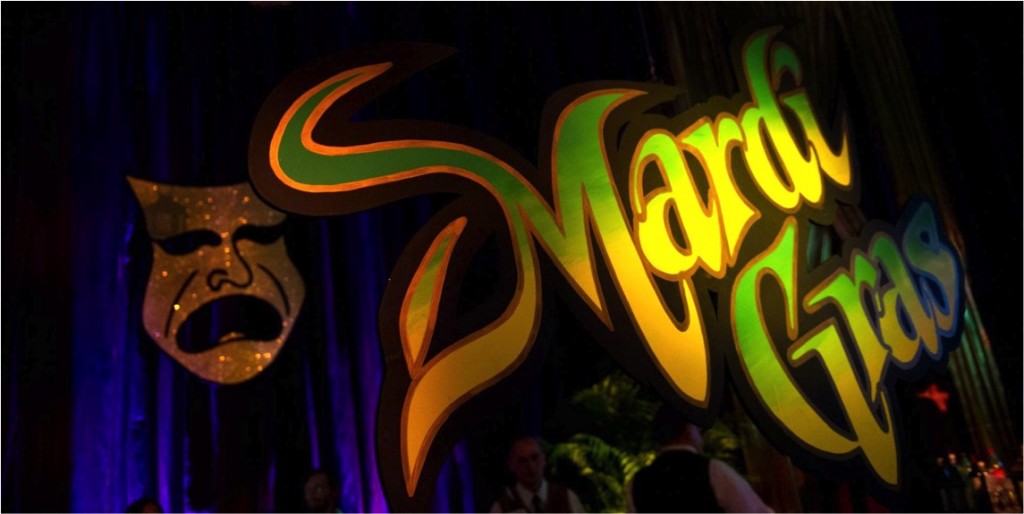 Many don't know that Mardi Gras translates to "Fat Tuesday." This is one of the best themes for parties, galas, and fundraisers.  There are just a few guidelines to follow to have your own authentic Mardi Gras bash. But first, a little history.
In 1699, French-Canadian explorer Jean Baptiste Le Moyne Sieur de Bienville arrived at a plot of ground 60 miles directly south of New Orleans, and named it "Pointe du Mardi Gras" when his men realized it was the eve of the festive holiday started in medieval Europe and ended up in the French Colonies where they were Jean Baptiste was from.
In the beginning in New Orleans, Mardi Gras started off as elegant society balls (our inspiration here), the parade actually came about 40 years later. In 1856 the first "krewe," was formed. A Krewe is a club or "secret society," that dances, builds floats, and dazzles during Mardi Gras.
BASIC COLORS
PURPLE Represents Justice.
GREEN Represents Faith
GOLD Represents Power
Décor and Event Elements –

Beads and throws are items that krewe members on floats throw to parade-goers as the floats pass by! Throws often include doubloons, beads, cups, homemade trinkets, toys and more. Beads are easy to find at any local party store. Have creating your own trinkets to "throw" to guests!
Masks- Mardi Gras masks lend an air of mystery and magic to the revelry. One of the main advantages of masking for Mardi Gras parades and parties is that one's identity is concealed and they are freed from societal constraints to get down and party! The more elaborate the masks the better the celebration.
Umbrellas- twirling an elaborately decorated umbrella while dancing is a sign of happiness and joy that originates from the 2nd line tradition (basically a conga line with a lead whom everyone else follows in dance. Popular at weddings, funerals, mardi gras and other milestone moments).  Decorating umbrellas could be a fun and creative activity and some flair to your mardi gras party.

Other Fun Event Elements
· Floats- Add large objects such as crowns to your event to represent the floats in a traditional Mardi Gras celebration
·  Parades- Know a trumpet or sax player or just have a friend with an instrument. Invite them to lead the 2nd line and don;t forget to twirl your umbrellas and handkerchiefs!
·  Costumes- dressing the part is have the fun.  Large head pieces and elaborately decorated garb are worn by krewes.